---
Transform Crinoline with stylish colour toning as you learn to dye the polyester material under the direction of US Milliner, Amy Fowler. Learn how to pre-shape the crinoline to add graceful veiling to your headpiece with twists and curls and tonal shaded bows.
Amy Fowler got her start in millinery with Hat Academy, receiving the Hat Academy certification in 2017 before attending the millinery intensive course at the London College of Fashion in 2018. Located in the rural Redwoods of Northern California, she shows her designs regularly in London Hat Week and Melbourne International Millinery Competition and has won awards and grants for her work. Amy is also a contributing writer and tutor for HaTalk eMagazine.
Her style is artistic yet wearable, with emphasis on sculptural design. Her work features high attention to detail and employs innovative techniques with wide variety materials. She enjoys developing new approaches to traditional and contemporary materials, and continuously expanding her knowledge of the ever-progressing millinery industry.
WHAT YOU GET • 2 creative online video lessons• 60 min tuition on demand• Unlimited lifetime access on any modern device• Learn to make headwear in your own time if (!window.AdButler){(function(){var s = document.createElement("script"); s.async = true; s.type = "text/javascript";s.src = 'https://servedbyadbutler.com/app.js';var n = document.getElementsByTagName("script")[0]; n.parentNode.insertBefore(s, n);}());} var AdButler = AdButler || {}; AdButler.ads = AdButler.ads || []; var abkw = window.abkw || ''; var plc311470 = window.plc311470 || 0; document.write(''); AdButler.ads.push({handler: function(opt){ AdButler.register(166897, 311470, [250,20], 'placement_311470_'+opt.place, opt); }, opt: { place: plc311470++, keywords: abkw, domain: 'servedbyadbutler.com', click:'CLICK_MACRO_PLACEHOLDER' }}); Creative Crinoline Course LESSON PLAN (function() { if(!window.hypervisualIsEditorContext) { var sliderOptions = { loop: true, autoplay: false, effect: 'fade', fadeEffect: { crossFade: true }, containerModifierClass: 'hypervisual__slider-container-', wrapperClass: 'hypervisual__slider-wrapper', slideClass: 'hypervisual__slider-slide', slideActiveClass: 'hypervisual__slider-slide-active', slideDuplicatedActiveClass: 'hypervisual__slider-slide-duplicate-active', slideVisibleClass: 'hypervisual__slider-slide-visible', slideDuplicateClass: 'hypervisual__slider-slide-duplicate', slideNextClass: 'hypervisual__slider-slide-next', slideDuplicatedNextClass: 'hypervisual__slider-slide-duplicate-next', slidePrevClass: 'hypervisual__slider-slide-prev', slideDuplicatedPrevClass: 'hypervisual__slider-slide-duplicate-prev', buttonDisabledClass: 'hypervisual__slider-button-disabled', lazyLoadingClass: 'hypervisual__slider-lazy', lazyStatusLoadingClass: 'hypervisual__slider-lazy-loading', lazyStatusLoadedClass: 'hypervisual__slider-lazy-loaded', lazyPreloaderClass: 'hypervisual__slider-lazy-preloader', preloaderClass: 'preloader', zoomContainerClass: 'hypervisual__slider-zoom-container', notificationClass: 'hypervisual__slider-notification' }; sliderOptions.navigation = { nextEl: '.hypervisual__slider-button-next', prevEl: '.hypervisual__slider-button-prev', }; var slider = new Swiper ('#hypervisual__slider_578551423', sliderOptions); window.addEventListener("load", function(event) { slider.el.className = slider.el.className.replace('hypervisual__slider-container-pending', ''); slider.update(); slider.pagination.render(); slider.pagination.update(); }); } })(); DYEING CRINOLINE Your Tutor Amy Fowler teaches you in detail how to dye Polyester based Crinoline to give variation of colours as you work with this inexpensive product in various widths. This will add an alluring charm to your millinery to give individual style on your new season's headwear.Lesson Modules:• Prepare Dye • Dyeing Crinoline (function() { if(!window.hypervisualIsEditorContext) { var sliderOptions = { loop: true, autoplay: false, effect: 'fade', fadeEffect: { crossFade: true }, containerModifierClass: 'hypervisual__slider-container-', wrapperClass: 'hypervisual__slider-wrapper', slideClass: 'hypervisual__slider-slide', slideActiveClass: 'hypervisual__slider-slide-active', slideDuplicatedActiveClass: 'hypervisual__slider-slide-duplicate-active', slideVisibleClass: 'hypervisual__slider-slide-visible', slideDuplicateClass: 'hypervisual__slider-slide-duplicate', slideNextClass: 'hypervisual__slider-slide-next', slideDuplicatedNextClass: 'hypervisual__slider-slide-duplicate-next', slidePrevClass: 'hypervisual__slider-slide-prev', slideDuplicatedPrevClass: 'hypervisual__slider-slide-duplicate-prev', buttonDisabledClass: 'hypervisual__slider-button-disabled', lazyLoadingClass: 'hypervisual__slider-lazy', lazyStatusLoadingClass: 'hypervisual__slider-lazy-loading', lazyStatusLoadedClass: 'hypervisual__slider-lazy-loaded', lazyPreloaderClass: 'hypervisual__slider-lazy-preloader', preloaderClass: 'preloader', zoomContainerClass: 'hypervisual__slider-zoom-container', notificationClass: 'hypervisual__slider-notification' }; sliderOptions.navigation = { nextEl: '.hypervisual__slider-button-next', prevEl: '.hypervisual__slider-button-prev', }; var slider = new Swiper ('#hypervisual__slider_537710940', sliderOptions); window.addEventListener("load", function(event) { slider.el.className = slider.el.className.replace('hypervisual__slider-container-pending', ''); slider.update(); slider.pagination.render(); slider.pagination.update(); }); } })(); CRINOLINE HEADPIECE Amy demonstrates how to permanently pleat your Crinoline to reveal unique trims with tonal shading. Make a headpiece with pre-moulded crinoline veil that surrounds the face and complete with loops and bows. With variations when sculpturing Crinoline you will be able to take on board new styling with Crinoline. Lesson Modules:• Pleating Crinoline • Pre-Shaping Veil• Colour Toned Bows • Adorn Bows And Loops VARIETY OF INSTRUCTION Be inspired by tuition that covers practical skills and creative techniques. UNLIMITED LESSON ACCESS You have unlimited access to your lessons to recap on specific skills. PASSIONATE TUTOR Your tutor with professional experience provides a wealth of millinery knowledge. Guest Tutor Courses are produced by an independent party and are complete in teaching delivery and support. if (!window.AdButler){(function(){var s = document.createElement("script"); s.async = true; s.type = "text/javascript";s.src = 'https://servedbyadbutler.com/app.js';var n = document.getElementsByTagName("script")[0]; n.parentNode.insertBefore(s, n);}());} var AdButler = AdButler || {}; AdButler.ads = AdButler.ads || []; var abkw = window.abkw || ''; var plc311470 = window.plc311470 || 0; document.write(''); AdButler.ads.push({handler: function(opt){ AdButler.register(166897, 311470, [250,20], 'placement_311470_'+opt.place, opt); }, opt: { place: plc311470++, keywords: abkw, domain: 'servedbyadbutler.com', click:'CLICK_MACRO_PLACEHOLDER' }}); Creative Crinoline Course RECOMMENDED SUPPLIES Millinery Product Kit - Materials for this course. if (!window.AdButler){(function(){var s = document.createElement("script"); s.async = true; s.type = "text/javascript";s.src = 'https://servedbyadbutler.com/app.js';var n = document.getElementsByTagName("script")[0]; n.parentNode.insertBefore(s, n);}());} var AdButler = AdButler || {}; AdButler.ads = AdButler.ads || []; var abkw = window.abkw || ''; var plc311470 = window.plc311470 || 0; document.write(''); AdButler.ads.push({handler: function(opt){ AdButler.register(166897, 311470, [250,20], 'placement_311470_'+opt.place, opt); }, opt: { place: plc311470++, keywords: abkw, domain: 'servedbyadbutler.com', click:'CLICK_MACRO_PLACEHOLDER' }}); Creative Crinoline Course RECOMMENDED SUPPLIES Millinery Product Kit - Materials for this course.
• 2 creative online video lessons
• 60 min tuition on demand
• Unlimited lifetime access on any modern device
• Learn to make headwear in your own time
Creative Crinoline Course
LESSON PLAN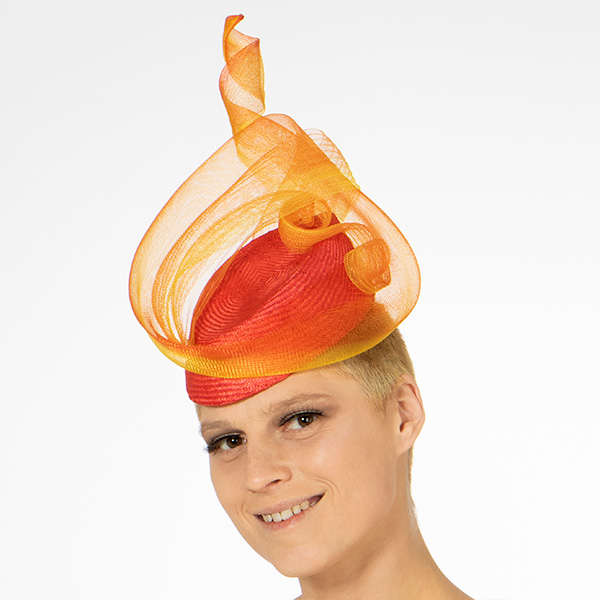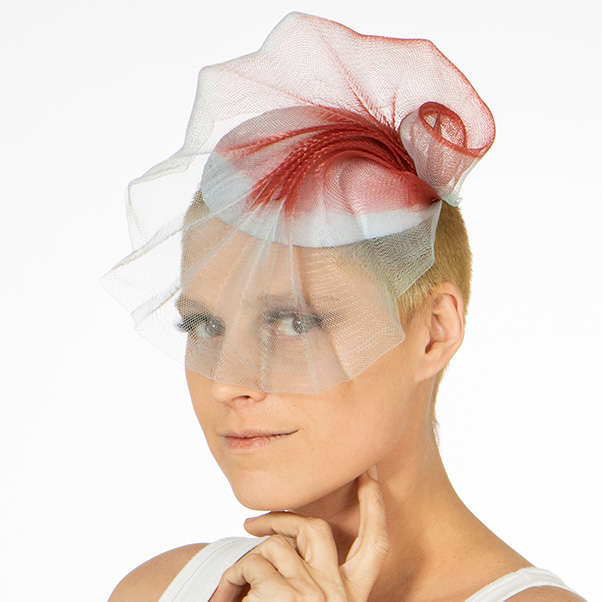 Your Tutor Amy Fowler teaches you in detail how to dye Polyester based Crinoline to give variation of colours as you work with this inexpensive product in various widths. This will add an alluring charm to your millinery to give individual style on your new season's headwear.

Lesson Modules:
• Prepare Dye • Dyeing Crinoline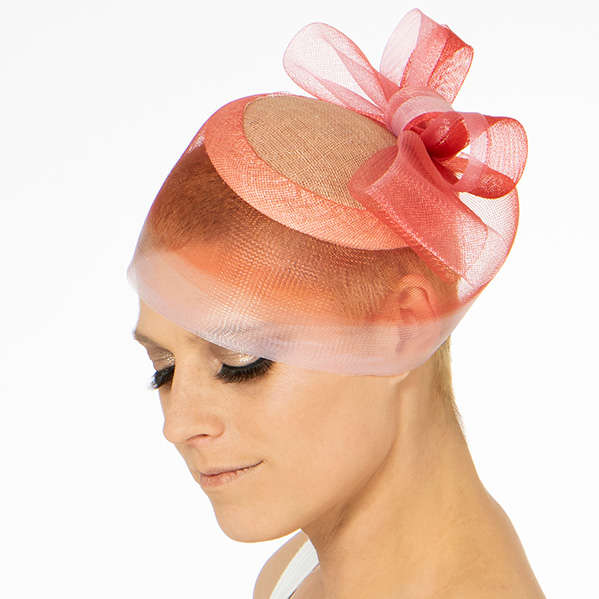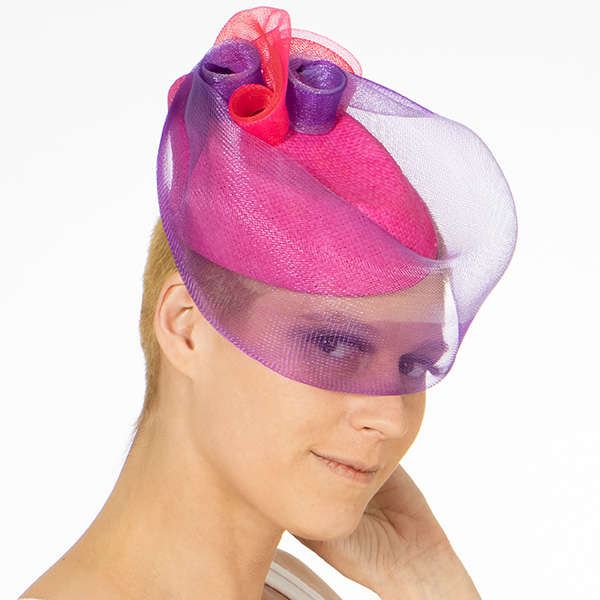 Amy demonstrates how to permanently pleat your Crinoline to reveal unique trims with tonal shading. Make a headpiece with pre-moulded crinoline veil that surrounds the face and complete with loops and bows. With variations when sculpturing Crinoline you will be able to take on board new styling with Crinoline.

Lesson Modules:
• Pleating Crinoline • Pre-Shaping Veil
• Colour Toned Bows • Adorn Bows And Loops

Be inspired by tuition that covers practical skills and creative techniques.

You have unlimited access to your lessons to recap on specific skills.

Your tutor with professional experience provides a wealth of millinery knowledge.
Guest Tutor Courses are produced by an independent party and are complete in teaching delivery and support.
Creative Crinoline Course
Creative Crinoline Course
---