---
Whether you are looking to turn your passion for millinery into a business or increase sales for your current millinery business, this course will help establish a commercial strategy through a variety of tutorials, practical examples and worksheet exercises. The series is hosted by acclaimed Milliner Christie Murray, 
who draws on her millinery industry experience to provide clear steps on how to start or grow a successful millinery business.
How long will the course take to complete?
The minimum time required is 3-4 hours but this will vary for each individual depending on the time spent completing the set exercises.

Can you explain the format of the course? 
It's a video series of tutorials, interviews and real life examples with easy to follow steps on a provided worksheet. As Christie shares her knowledge, you will be prompted to complete tasks throughout the course, plus you can rewatch lessons at any time.
Is this course relevant to milliners world wide?
Yes, the information is valid no matter where you live. A provided index helps direct you to resources available in multiple countries to cover the steps you need to take to set up your business. 
I have limited business experience, will this course be too difficult?
The course is structured in a way that won't be too overwhelming for you. It is broken in to easy to follow steps and straightforward worksheets that Christie guides you through. There are also links to additional resources if you require further help.
I've had a millinery business for years, is this course relevant to me? 
This course is relevant for Milliners with a current business to ensure you have established your groundwork to maximise commercial potential.
Do I need to purchase any materials for this course? 
You will just need access to a computer or mobile device and an internet connection. There are also worksheets that you can print out or follow on your computer.
Christie Murray is a Milliner based in Australia and has a background in fashion business and education. Christie undertook a co-branded project with a large fashion label, CAMILLA. During this project, Christie and her team made headwear to stock in all of their boutiques and major department stores across Australia.

Christie has sold headwear in both physical and online market places, pop-up shops, boutiques and major department stores. Christie showed her headwear collection at Australian Fashion Week and has had headwear featured in multiple publications including VOGUE, VOGUE Brides and InStyle magazines.
More...

WHAT YOU GET • 2 comprehensive online video lessons• Unlimited access on any modern device• Business Resource directory• Supplementary Lesson Worksheets if (!window.AdButler){(function(){var s = document.createElement("script"); s.async = true; s.type = "text/javascript";s.src = 'https://servedbyadbutler.com/app.js';var n = document.getElementsByTagName("script")[0]; n.parentNode.insertBefore(s, n);}());} var AdButler = AdButler || {}; AdButler.ads = AdButler.ads || []; var abkw = window.abkw || ''; var plc311470 = window.plc311470 || 0; document.write(''); AdButler.ads.push({handler: function(opt){ AdButler.register(166897, 311470, [250,20], 'placement_311470_'+opt.place, opt); }, opt: { place: plc311470++, keywords: abkw, domain: 'servedbyadbutler.com', click:'CLICK_MACRO_PLACEHOLDER' }}); Millinery Business Series: Foundations LESSON PLAN BUILDING YOUR MILLINERY BRAND In the first lesson of the series, you will develop or revisit the foundations of your millinery business. Through easy to follow worksheets and activities, you will define your millinery brand, target market and ideal customer. By the end of the lesson, you will understand the importance of design elements and image choices for your millinery label and learn how a consistent brand message translates into sales.Lesson Content:• Brand Basics • Your Buyer Persona• Brand Identity BUILDING YOUR MILLINERY BUSINESS Throughout the second lesson, you will assemble your business framework with a corresponding checklist. In establishing your business plan, you will conduct a market and competitive analysis and take the steps required to transform your passion into a functional millinery business. Meet with an established Milliner, Angela Menz to see these business concepts brought to life.Lesson Content:• Business Structure • Market Analysis• Logistics & Operations • Meet The Milliner CLASS WORKSHEETS Downloadable worksheets that accompany the lessons to assist in developing your business strategy. MEET THE MILLINER Be inspired by the millinery business journey of Angela Menz as she shares her practical knowledge. LEARN IN YOUR OWN TIME You have unlimited access to all your lessons to study at your own pace at anytime or location. WHAT STUDENTS THINK "I am most impressed, it hit on so many areas that I had not even thought about. So happy I ordered the course!"Susan "It is a great course! I enjoyed it and learned a lot. The worksheets were quite helpful."Sara if (!window.AdButler){(function(){var s = document.createElement("script"); s.async = true; s.type = "text/javascript";s.src = 'https://servedbyadbutler.com/app.js';var n = document.getElementsByTagName("script")[0]; n.parentNode.insertBefore(s, n);}());} var AdButler = AdButler || {}; AdButler.ads = AdButler.ads || []; var abkw = window.abkw || ''; var plc311470 = window.plc311470 || 0; document.write(''); AdButler.ads.push({handler: function(opt){ AdButler.register(166897, 311470, [250,20], 'placement_311470_'+opt.place, opt); }, opt: { place: plc311470++, keywords: abkw, domain: 'servedbyadbutler.com', click:'CLICK_MACRO_PLACEHOLDER' }}); Millinery Business Series: Foundations
WHAT YOU GET
• 2 comprehensive online video lessons
• Unlimited access on any modern device
• Business Resource directory
• Supplementary Lesson Worksheets
Millinery Business Series: Foundations
LESSON PLAN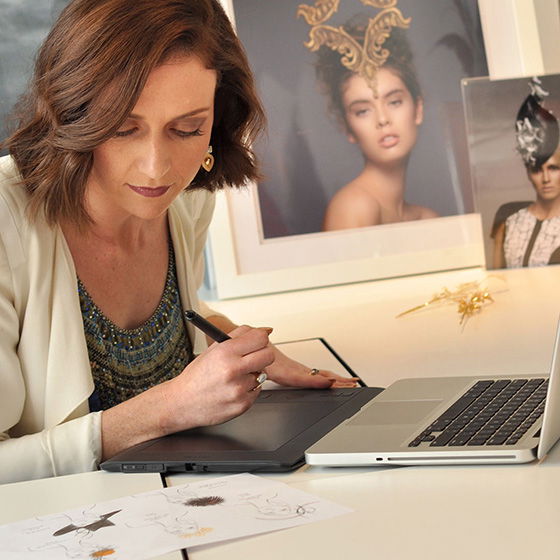 BUILDING YOUR MILLINERY BRAND
In the first lesson of the series, you will develop or revisit the foundations of your millinery business. Through easy to follow worksheets and activities, you will define your millinery brand, target market and ideal customer. By the end of the lesson, you will understand the importance of design elements and image choices for your millinery label and learn how a consistent brand message translates into sales.

Lesson Content:
• Brand Basics • Your Buyer Persona
• Brand Identity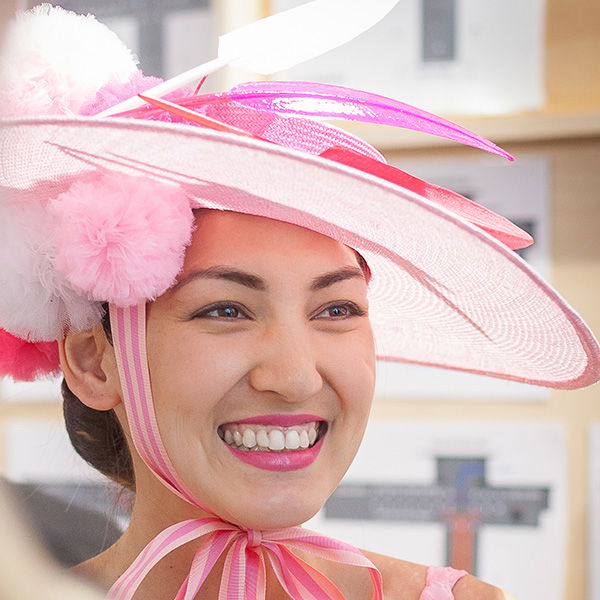 BUILDING YOUR MILLINERY BUSINESS
Throughout the second lesson, you will assemble your business framework with a corresponding checklist. In establishing your business plan, you will conduct a market and competitive analysis and take the steps required to transform your passion into a functional millinery business. Meet with an established Milliner, Angela Menz to see these business concepts brought to life.

Lesson Content:
• Business Structure • Market Analysis
• Logistics & Operations • Meet The Milliner

Downloadable worksheets that accompany the lessons to assist in developing your business strategy.

Be inspired by the millinery business journey of Angela Menz as she shares her practical knowledge.

You have unlimited access to all your lessons to study at your own pace at anytime or location.
WHAT STUDENTS THINK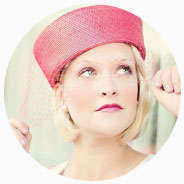 "I am most impressed, it hit on so many areas that I had not even thought about. So happy I ordered the course!"
Susan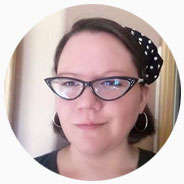 "It is a great course! I enjoyed it and learned a lot. The worksheets were quite helpful."
Sara
Millinery Business Series: Foundations
---