---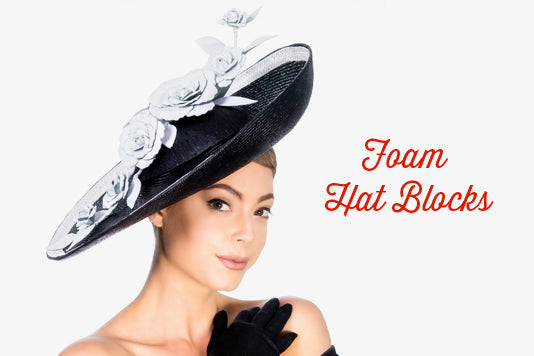 Hat Blocks are an essential part of the millinery creative process. Making your own custom blocks is quick and easy to master under the instruction of UK Milliner Ian Bennett. He generously shares all his proven methods to enable you to successfully make durable blocks. Whether you are an experienced milliner or a beginner these techniques will allow you to make a style uniquely your design for your clients.  
Drama, perfection, excitement, love and passion. Ian Bennett has worked for Royal milliners, Frederick Rox, Philip Sommerville and Graham Smith, as well as Stephen Jones and Siggi Hats in their incredible workrooms. For Ian, it's about making something brand new, making the exciting and the impossible. It is the sculpture and the excitement that makes every day making hats a truly incredible one.
WHAT YOU GET • 2 creative online video lessons• Unlimited lifetime access on any modern device• Learn to make 3 different hat blocks• 3+ hours of comprehensive video tuition• Correspondence with tutor to answer lesson questions if (!window.AdButler){(function(){var s = document.createElement("script"); s.async = true; s.type = "text/javascript";s.src = 'https://servedbyadbutler.com/app.js';var n = document.getElementsByTagName("script")[0]; n.parentNode.insertBefore(s, n);}());} var AdButler = AdButler || {}; AdButler.ads = AdButler.ads || []; var abkw = window.abkw || ''; var plc311470 = window.plc311470 || 0; document.write(''); AdButler.ads.push({handler: function(opt){ AdButler.register(166897, 311470, [250,20], 'placement_311470_'+opt.place, opt); }, opt: { place: plc311470++, keywords: abkw, domain: 'servedbyadbutler.com', click:'CLICK_MACRO_PLACEHOLDER' }}); FOAM HAT BLOCKS DELUXE COURSE LESSON PLAN FOAM CROWN HAT BLOCKS Learn how to make your own crowns, a basic dome block then carve a shaped Trilby block in foam with instruction to define shapes for male clientele. Your tutor Ian Bennett will inspire you to master his proven methods for a durable and smooth finish.Lesson Modules:• Foam Making Basics • Dome Shaping • Surface Finishing • Trilby Shaping • Crown Indent FOAM BRIM HAT BLOCK Brims with an upsweep side are a favourite style of the Royals. Master how to shape a large upturned flange brim from Award winning Milliner Ian Bennett. Under his direction you will make a lightweight, strong and unique brim block at little cost.Lesson Modules:• Prepare Foam • Upturned Brim • Recess Collar • Fitting & Finish VARIETY OF INSTRUCTION Be inspired by millinery tuition that covers practical technical skills, creative techniques and industry knowledge. UNLIMITED LESSON ACCESS You have unlimited access to all your lessons so you can return to modules and recap on specific skills. LESSON ASSISTANCE Access online contact with your tutor for three months to ask lesson specific questions and feedback. if (!window.AdButler){(function(){var s = document.createElement("script"); s.async = true; s.type = "text/javascript";s.src = 'https://servedbyadbutler.com/app.js';var n = document.getElementsByTagName("script")[0]; n.parentNode.insertBefore(s, n);}());} var AdButler = AdButler || {}; AdButler.ads = AdButler.ads || []; var abkw = window.abkw || ''; var plc311470 = window.plc311470 || 0; document.write(''); AdButler.ads.push({handler: function(opt){ AdButler.register(166897, 311470, [250,20], 'placement_311470_'+opt.place, opt); }, opt: { place: plc311470++, keywords: abkw, domain: 'servedbyadbutler.com', click:'CLICK_MACRO_PLACEHOLDER' }}); FOAM HAT BLOCKS DELUXE COURSE RECOMMENDED SUPPLIES Course Requirements - Recommended materials and tools.Millinery Product Kit - Discounted materials for this course. if (!window.AdButler){(function(){var s = document.createElement("script"); s.async = true; s.type = "text/javascript";s.src = 'https://servedbyadbutler.com/app.js';var n = document.getElementsByTagName("script")[0]; n.parentNode.insertBefore(s, n);}());} var AdButler = AdButler || {}; AdButler.ads = AdButler.ads || []; var abkw = window.abkw || ''; var plc311470 = window.plc311470 || 0; document.write(''); AdButler.ads.push({handler: function(opt){ AdButler.register(166897, 311470, [250,20], 'placement_311470_'+opt.place, opt); }, opt: { place: plc311470++, keywords: abkw, domain: 'servedbyadbutler.com', click:'CLICK_MACRO_PLACEHOLDER' }}); FOAM HAT BLOCKS DELUXE COURSE RECOMMENDED SUPPLIES Course Requirements - Recommended materials and tools.Millinery Product Kit - Discounted materials for this course.
• 2 creative online video lessons
• Unlimited lifetime access on any modern device
• Learn to make 3 different hat blocks
• 3+ hours of comprehensive video tuition
• Correspondence with tutor to answer lesson questions
FOAM HAT BLOCKS DELUXE COURSE
LESSON PLAN
Learn how to make your own crowns, a basic dome block then carve a shaped Trilby block in foam with instruction to define shapes for male clientele. Your tutor Ian Bennett will inspire you to master his proven methods for a durable and smooth finish.

Lesson Modules:
• Foam Making Basics • Dome Shaping • Surface Finishing
• Trilby Shaping • Crown Indent
Brims with an upsweep side are a favourite style of the Royals. Master how to shape a large upturned flange brim from Award winning Milliner Ian Bennett. Under his direction you will make a lightweight, strong and unique brim block at little cost.

Lesson Modules:
• Prepare Foam • Upturned Brim
• Recess Collar • Fitting & Finish

Be inspired by millinery tuition that covers practical technical skills, creative techniques and industry knowledge.

You have unlimited access to all your lessons so you can return to modules and recap on specific skills.

Access online contact with your tutor for three months to ask lesson specific questions and feedback.
FOAM HAT BLOCKS DELUXE COURSE
FOAM HAT BLOCKS DELUXE COURSE
---