---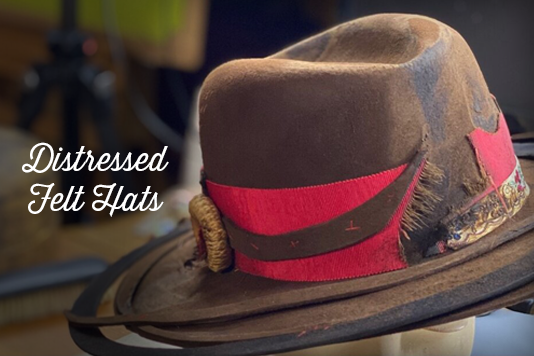 Learn how to make contemporary Felt Hats as you freely hand mould the desired shape and distress to give your hats a true personality. You will learn to work with a pre-stiffened felt body and how to choose the tools and blocks to suit your styling. Your tutor Waltraud Reiner shares from her valuable experience and elaborates on head fittings, trimming, distorting and about your creativity when making a hat.
Guest lessons are produced by independent tutors and are complete in teaching delivery and support.

Hats are life for Waltraud Reiner. She has been working in millinery for 30 years, and was inducted into the Australian Millinery Hall of Fame. A designer and a teacher, and her passion for hats has inspired countless students to discover their own style.
Materials And Tools:
Pre-stiffened fur felt body
Steamer
Blocks
Sander/sandpaper
Steam iron
Atomiser
Methylated spirits / Isopropyl alchohol
Blocking Spring
Fire Lighter
Ironing cloth/ linen tea towel
Rounding Jack- Hat Blocks Australia
Large Metal tray
Petersham ribbon of choice
Sewing Kit
WHAT YOU GET • Unlimited lifetime access on any modern device • 1hr 5min creative video tuition• Learn to make headwear in your own time DISTRESSED FELT HATS GUEST COURSE   if (!window.AdButler){(function(){var s = document.createElement("script"); s.async = true; s.type = "text/javascript";s.src = 'https://servedbyadbutler.com/app.js';var n = document.getElementsByTagName("script")[0]; n.parentNode.insertBefore(s, n);}());} var AdButler = AdButler || {}; AdButler.ads = AdButler.ads || []; var abkw = window.abkw || ''; var plc311470 = window.plc311470 || 0; document.write(''); AdButler.ads.push({handler: function(opt){ AdButler.register(166897, 311470, [250,20], 'placement_311470_'+opt.place, opt); }, opt: { place: plc311470++, keywords: abkw, domain: 'servedbyadbutler.com', click:'CLICK_MACRO_PLACEHOLDER' }}); LESSON PLAN Learn how to choose the right blocks from the collection to suit your styleBlock brim and crown using pre-stiffened felt bodyHand mould your personal style 'bash' to crownComplete surface by sanding, burning and distressing with a trim to suit the personality of your hat DISTRESSED FELT HATS GUEST COURSE   if (!window.AdButler){(function(){var s = document.createElement("script"); s.async = true; s.type = "text/javascript";s.src = 'https://servedbyadbutler.com/app.js';var n = document.getElementsByTagName("script")[0]; n.parentNode.insertBefore(s, n);}());} var AdButler = AdButler || {}; AdButler.ads = AdButler.ads || []; var abkw = window.abkw || ''; var plc311470 = window.plc311470 || 0; document.write(''); AdButler.ads.push({handler: function(opt){ AdButler.register(166897, 311470, [250,20], 'placement_311470_'+opt.place, opt); }, opt: { place: plc311470++, keywords: abkw, domain: 'servedbyadbutler.com', click:'CLICK_MACRO_PLACEHOLDER' }}); RECOMMENDED SUPPLIES Materials And Tools suggested for this course.Hat Blocks - Quality hat blocks with free shipping worldwide. DISTRESSED FELT HAT GUEST COURSE   if (!window.AdButler){(function(){var s = document.createElement("script"); s.async = true; s.type = "text/javascript";s.src = 'https://servedbyadbutler.com/app.js';var n = document.getElementsByTagName("script")[0]; n.parentNode.insertBefore(s, n);}());} var AdButler = AdButler || {}; AdButler.ads = AdButler.ads || []; var abkw = window.abkw || ''; var plc311470 = window.plc311470 || 0; document.write(''); AdButler.ads.push({handler: function(opt){ AdButler.register(166897, 311470, [250,20], 'placement_311470_'+opt.place, opt); }, opt: { place: plc311470++, keywords: abkw, domain: 'servedbyadbutler.com', click:'CLICK_MACRO_PLACEHOLDER' }}); RECOMMENDED SUPPLIES Tools And Materials suggested for this course.Hat Blocks - Quality hat blocks with free shipping worldwide.
WHAT YOU GET • Unlimited lifetime access on any modern device • 1hr 5min creative video tuition• Learn to make headwear in your own time DISTRESSED FELT HATS GUEST COURSE   if (!window.AdButler){(function(){var s = document.createElement("script"); s.async = true; s.type = "text/javascript";s.src = 'https://servedbyadbutler.com/app.js';var n = document.getElementsByTagName("script")[0]; n.parentNode.insertBefore(s, n);}());} var AdButler = AdButler || {}; AdButler.ads = AdButler.ads || []; var abkw = window.abkw || ''; var plc311470 = window.plc311470 || 0; document.write(''); AdButler.ads.push({handler: function(opt){ AdButler.register(166897, 311470, [250,20], 'placement_311470_'+opt.place, opt); }, opt: { place: plc311470++, keywords: abkw, domain: 'servedbyadbutler.com', click:'CLICK_MACRO_PLACEHOLDER' }}); LESSON PLAN Learn how to choose the right blocks from the collection to suit your styleBlock brim and crown using pre-stiffened felt bodyHand mould your personal style 'bash' to crownComplete surface by sanding, burning and distressing with a trim to suit the personality of your hat DISTRESSED FELT HATS GUEST COURSE   if (!window.AdButler){(function(){var s = document.createElement("script"); s.async = true; s.type = "text/javascript";s.src = 'https://servedbyadbutler.com/app.js';var n = document.getElementsByTagName("script")[0]; n.parentNode.insertBefore(s, n);}());} var AdButler = AdButler || {}; AdButler.ads = AdButler.ads || []; var abkw = window.abkw || ''; var plc311470 = window.plc311470 || 0; document.write(''); AdButler.ads.push({handler: function(opt){ AdButler.register(166897, 311470, [250,20], 'placement_311470_'+opt.place, opt); }, opt: { place: plc311470++, keywords: abkw, domain: 'servedbyadbutler.com', click:'CLICK_MACRO_PLACEHOLDER' }}); RECOMMENDED SUPPLIES Materials And Tools suggested for this course.Hat Blocks - Quality hat blocks with free shipping worldwide. DISTRESSED FELT HAT GUEST COURSE   if (!window.AdButler){(function(){var s = document.createElement("script"); s.async = true; s.type = "text/javascript";s.src = 'https://servedbyadbutler.com/app.js';var n = document.getElementsByTagName("script")[0]; n.parentNode.insertBefore(s, n);}());} var AdButler = AdButler || {}; AdButler.ads = AdButler.ads || []; var abkw = window.abkw || ''; var plc311470 = window.plc311470 || 0; document.write(''); AdButler.ads.push({handler: function(opt){ AdButler.register(166897, 311470, [250,20], 'placement_311470_'+opt.place, opt); }, opt: { place: plc311470++, keywords: abkw, domain: 'servedbyadbutler.com', click:'CLICK_MACRO_PLACEHOLDER' }}); RECOMMENDED SUPPLIES Tools And Materials suggested for this course.Hat Blocks - Quality hat blocks with free shipping worldwide.
WHAT YOU GET
• Unlimited lifetime access on any modern device
• 1hr 5min creative video tuition
• Learn to make headwear in your own time
DISTRESSED FELT HATS GUEST COURSE
LESSON PLAN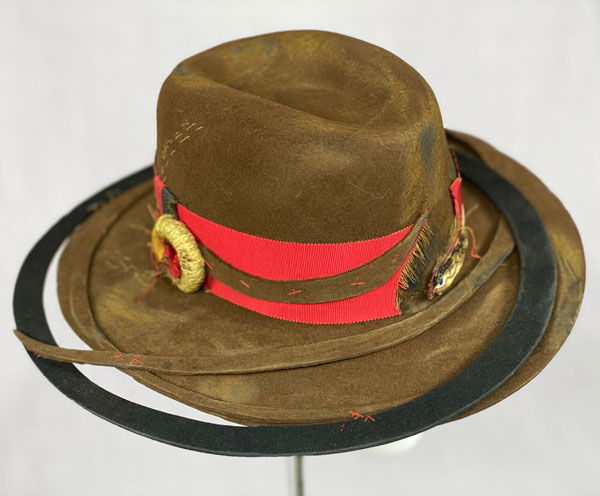 Learn how to choose the right blocks from the collection to suit your style
Block brim and crown using pre-stiffened felt body
Hand mould your personal style 'bash' to crown
Complete surface by sanding, burning and distressing with a trim to suit the personality of your hat
DISTRESSED FELT HATS GUEST COURSE
DISTRESSED FELT HAT GUEST COURSE
---