---
Percher hats are a favoured styling with their exclusive shaping and sensational trims which add height and elegance. Master Milliner and tutor Rebecca Share is excited to teach all her unique techniques throughout this Course. You will understand how to create outstanding Fashion On The Field styles that are securely positioned on the wearer with a customised band. 
Rebecca Share has been a milliner for 20 years and loves sharing her passion for Millinery. Rebecca has taught at the 'International Millinery Forum', 'Hats off to Brisbane' Millinery Convention and the 'Melbourne Fashion Institute'. Rebecca has been a Fashions on the Field judge at many racing events including the prestigious MYER Fashions on the field 'Millinery Award' held at Flemington race course during Melbourne Cup Carnival.

WHAT YOU GET • 4 creative online video lessons• Unlimited access on any modern device• Learn to make complete hats and trims• Comprehensive video tuition if (!window.AdButler){(function(){var s = document.createElement("script"); s.async = true; s.type = "text/javascript";s.src = 'https://servedbyadbutler.com/app.js';var n = document.getElementsByTagName("script")[0]; n.parentNode.insertBefore(s, n);}());} var AdButler = AdButler || {}; AdButler.ads = AdButler.ads || []; var abkw = window.abkw || ''; var plc311470 = window.plc311470 || 0; document.write(''); AdButler.ads.push({handler: function(opt){ AdButler.register(166897, 311470, [250,20], 'placement_311470_'+opt.place, opt); }, opt: { place: plc311470++, keywords: abkw, domain: 'servedbyadbutler.com', click:'CLICK_MACRO_PLACEHOLDER' }}); Percher Hat Deluxe Course LESSON PLAN PERCHER HAT HEADBANDS Wire headbands must be comfortable and secure especially when attached to Percher Hats. Rebecca has mastered a system that will assure your customers that their hat will stay in position on the preferred angle.Lesson Modules:• Preparing Wire • Shape Wire Band • Binding Percher Band • Colour,Cover & Secure 3D PERCHER HATS Construction and assembly methods are explored in detail to ensure your success with this unique styling. With so many design options these styles will add excitement to your new season range.Lesson Modules:• 3D Sinamay Blocking • Wiring Shape • Add Line, Texture And Band • Assembly And Trim PERCHER RING HATS Master two ring hat blocks with simplified assembly while learning how to manage the trimming during the manufacture process. Create a dramatic headpiece that will charm your customers. Lesson Modules:• Ring Foundation • Pari Addition• Combine Two Rings • Wire, Trim And Finish PERCHER HAT TRIMS Rebecca reveals all her technical secrets on how to create bows with twirls and volume, along with bespoke leaves and dramatic quills. Included are many extra options to incorporate these techniques.Lesson Modules• Dramatic Braid Bows • Twisted Tails • Leaf Trims • Braided Quill if (!window.AdButler){(function(){var s = document.createElement("script"); s.async = true; s.type = "text/javascript";s.src = 'https://servedbyadbutler.com/app.js';var n = document.getElementsByTagName("script")[0]; n.parentNode.insertBefore(s, n);}());} var AdButler = AdButler || {}; AdButler.ads = AdButler.ads || []; var abkw = window.abkw || ''; var plc311470 = window.plc311470 || 0; document.write(''); AdButler.ads.push({handler: function(opt){ AdButler.register(166897, 311470, [250,20], 'placement_311470_'+opt.place, opt); }, opt: { place: plc311470++, keywords: abkw, domain: 'servedbyadbutler.com', click:'CLICK_MACRO_PLACEHOLDER' }}); Percher Hat Deluxe Course RECOMMENDED SUPPLIES Millinery Product Kit - Discounted specific materials for this course.Hat Blocks - Quality hat blocks with free shipping worldwide. if (!window.AdButler){(function(){var s = document.createElement("script"); s.async = true; s.type = "text/javascript";s.src = 'https://servedbyadbutler.com/app.js';var n = document.getElementsByTagName("script")[0]; n.parentNode.insertBefore(s, n);}());} var AdButler = AdButler || {}; AdButler.ads = AdButler.ads || []; var abkw = window.abkw || ''; var plc311470 = window.plc311470 || 0; document.write(''); AdButler.ads.push({handler: function(opt){ AdButler.register(166897, 311470, [250,20], 'placement_311470_'+opt.place, opt); }, opt: { place: plc311470++, keywords: abkw, domain: 'servedbyadbutler.com', click:'CLICK_MACRO_PLACEHOLDER' }}); Percher Hat Deluxe Course RECOMMENDED SUPPLIES Millinery Product Kit - Discounted specific materials for this course.Hat Blocks - Quality hat blocks with free shipping worldwide.
• 4 creative online video lessons
• Unlimited access on any modern device
• Learn to make complete hats and trims
• Comprehensive video tuition
Percher Hat Deluxe Course
LESSON PLAN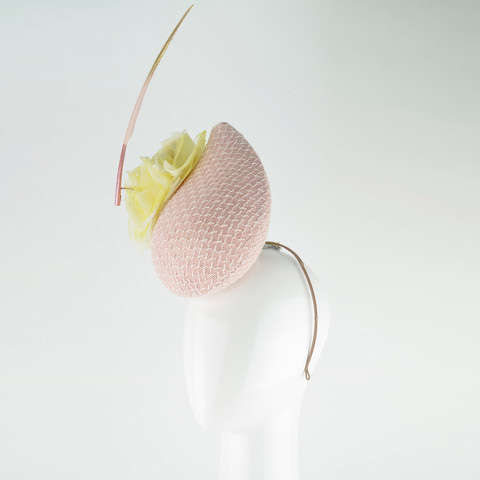 Wire headbands must be comfortable and secure especially when attached to Percher Hats. Rebecca has mastered a system that will assure your customers that their hat will stay in position on the preferred angle.


Lesson Modules:
• Preparing Wire • Shape Wire Band • Binding Percher Band • Colour,Cover & Secure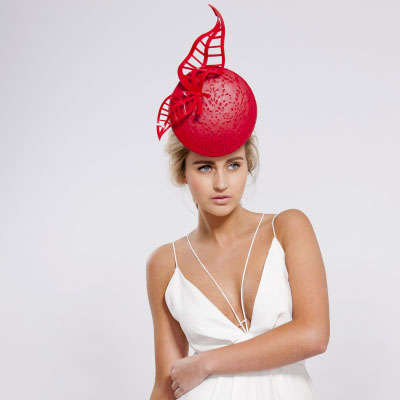 Construction and assembly methods are explored in detail to ensure your success with this unique styling. With so many design options these styles will add excitement to your new season range.

Lesson Modules:
• 3D Sinamay Blocking • Wiring Shape • Add Line, Texture And Band • Assembly And Trim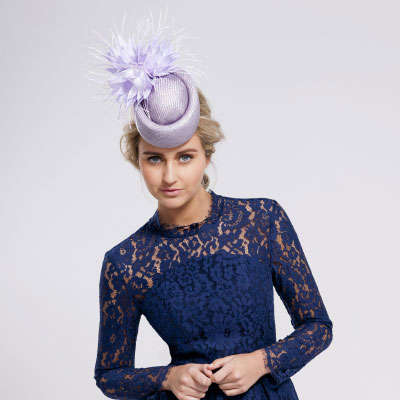 Master two ring hat blocks with simplified assembly while learning how to manage the trimming during the manufacture process. Create a dramatic headpiece that will charm your customers.


Lesson Modules:
• Ring Foundation • Pari Addition• Combine Two Rings • Wire, Trim And Finish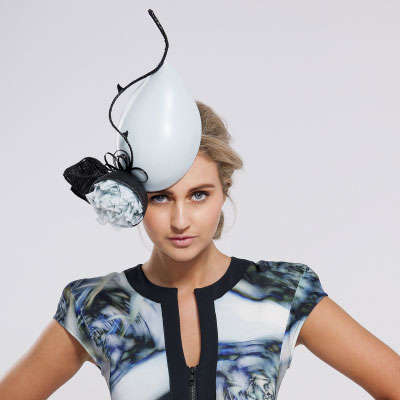 Rebecca reveals all her technical secrets on how to create bows with twirls and volume, along with bespoke leaves and dramatic quills. Included are many extra options to incorporate these techniques.

Lesson Modules
• Dramatic Braid Bows • Twisted Tails • Leaf Trims • Braided Quill
Percher Hat Deluxe Course
Percher Hat Deluxe Course
---