---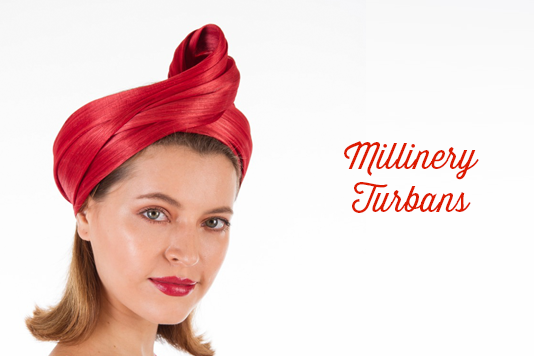 Contemporary turbans have been embraced as a fashion statement by women worldwide. They can be adorned with convenience and comfort, so your clients will feel elegant in this trans-seasonal headwear. Learn from Sydney Milliner, Jane Stoddart, how to make Turbans with stylish detail using your chosen fabric, silk abaca or crinoline.
Jane Stoddart has been creating beautiful and elegant pieces of couture millinery for over 30 years with an extensive client base, as well as supplying leading boutiques and department stores. One of Sydney's leading couture milliners, she has taught millinery through workshops, design colleges, millinery conventions and TAFE for over 15 years.
WHAT YOU GET • 2 creative online video lessons• Unlimited lifetime access on any modern device• Learn to make a variety of unique turban styles• 3 hours of comprehensive video tuition• Correspondence with tutor to answer lesson questions if (!window.AdButler){(function(){var s = document.createElement("script"); s.async = true; s.type = "text/javascript";s.src = 'https://servedbyadbutler.com/app.js';var n = document.getElementsByTagName("script")[0]; n.parentNode.insertBefore(s, n);}());} var AdButler = AdButler || {}; AdButler.ads = AdButler.ads || []; var abkw = window.abkw || ''; var plc311470 = window.plc311470 || 0; document.write(''); AdButler.ads.push({handler: function(opt){ AdButler.register(166897, 311470, [250,20], 'placement_311470_'+opt.place, opt); }, opt: { place: plc311470++, keywords: abkw, domain: 'servedbyadbutler.com', click:'CLICK_MACRO_PLACEHOLDER' }}); Millinery Turbans Deluxe Course LESSON PLAN (function() { if(!window.hypervisualIsEditorContext) { var sliderOptions = { loop: true, autoplay: false, effect: 'fade', fadeEffect: { crossFade: true }, containerModifierClass: 'hypervisual__slider-container-', wrapperClass: 'hypervisual__slider-wrapper', slideClass: 'hypervisual__slider-slide', slideActiveClass: 'hypervisual__slider-slide-active', slideDuplicatedActiveClass: 'hypervisual__slider-slide-duplicate-active', slideVisibleClass: 'hypervisual__slider-slide-visible', slideDuplicateClass: 'hypervisual__slider-slide-duplicate', slideNextClass: 'hypervisual__slider-slide-next', slideDuplicatedNextClass: 'hypervisual__slider-slide-duplicate-next', slidePrevClass: 'hypervisual__slider-slide-prev', slideDuplicatedPrevClass: 'hypervisual__slider-slide-duplicate-prev', buttonDisabledClass: 'hypervisual__slider-button-disabled', lazyLoadingClass: 'hypervisual__slider-lazy', lazyStatusLoadingClass: 'hypervisual__slider-lazy-loading', lazyStatusLoadedClass: 'hypervisual__slider-lazy-loaded', lazyPreloaderClass: 'hypervisual__slider-lazy-preloader', preloaderClass: 'preloader', zoomContainerClass: 'hypervisual__slider-zoom-container', notificationClass: 'hypervisual__slider-notification' }; sliderOptions.navigation = { nextEl: '.hypervisual__slider-button-next', prevEl: '.hypervisual__slider-button-prev', }; var slider = new Swiper ('#hypervisual__slider_739398982', sliderOptions); window.addEventListener("load", function(event) { slider.el.className = slider.el.className.replace('hypervisual__slider-container-pending', ''); slider.update(); slider.pagination.render(); slider.pagination.update(); }); } })(); TURBAN FUNDAMENTALS Turbans are a traditional headwear for many cultures but can be a challenge for a fashion milliner to determine how to encompass the face but keep it comfortable and secure on the head. Jane Stoddart shares her methods in this lesson allowing you to use your chosen fabric to make a full turban or a more casual turban wrap.Lesson Modules:• Prepare Base • Central Draping• Side Draping • Head Wrap (function() { if(!window.hypervisualIsEditorContext) { var sliderOptions = { loop: true, autoplay: false, effect: 'fade', fadeEffect: { crossFade: true }, containerModifierClass: 'hypervisual__slider-container-', wrapperClass: 'hypervisual__slider-wrapper', slideClass: 'hypervisual__slider-slide', slideActiveClass: 'hypervisual__slider-slide-active', slideDuplicatedActiveClass: 'hypervisual__slider-slide-duplicate-active', slideVisibleClass: 'hypervisual__slider-slide-visible', slideDuplicateClass: 'hypervisual__slider-slide-duplicate', slideNextClass: 'hypervisual__slider-slide-next', slideDuplicatedNextClass: 'hypervisual__slider-slide-duplicate-next', slidePrevClass: 'hypervisual__slider-slide-prev', slideDuplicatedPrevClass: 'hypervisual__slider-slide-duplicate-prev', buttonDisabledClass: 'hypervisual__slider-button-disabled', lazyLoadingClass: 'hypervisual__slider-lazy', lazyStatusLoadingClass: 'hypervisual__slider-lazy-loading', lazyStatusLoadedClass: 'hypervisual__slider-lazy-loaded', lazyPreloaderClass: 'hypervisual__slider-lazy-preloader', preloaderClass: 'preloader', zoomContainerClass: 'hypervisual__slider-zoom-container', notificationClass: 'hypervisual__slider-notification' }; sliderOptions.navigation = { nextEl: '.hypervisual__slider-button-next', prevEl: '.hypervisual__slider-button-prev', }; var slider = new Swiper ('#hypervisual__slider_596766097', sliderOptions); window.addEventListener("load", function(event) { slider.el.className = slider.el.className.replace('hypervisual__slider-container-pending', ''); slider.update(); slider.pagination.render(); slider.pagination.update(); }); } })(); CONTEMPORARY TURBANS Turbans have been much loved by couture fashion for their elegance. Your tutor, Jane Stoddart teaches you methods to manage the flexibility of Silk Abaca to create a full turban or simple Turban wraps in silk abaca or transparent crinoline. Your customers will enjoy this light weight trans-seasonal headwear. Lesson Modules:• Silk Abaca Preparation • Secure Draping• Knot Designs • Turban Wraps VARIETY OF INSTRUCTION Be inspired by millinery tuition that covers practical technical skills, creative techniques and industry knowledge. UNLIMITED LESSON ACCESS You have unlimited access to all your lessons so you can return to modules and recap on specific skills. LESSON ASSISTANCE Access online contact with your tutor for three months to ask lesson specific questions and feedback. if (!window.AdButler){(function(){var s = document.createElement("script"); s.async = true; s.type = "text/javascript";s.src = 'https://servedbyadbutler.com/app.js';var n = document.getElementsByTagName("script")[0]; n.parentNode.insertBefore(s, n);}());} var AdButler = AdButler || {}; AdButler.ads = AdButler.ads || []; var abkw = window.abkw || ''; var plc311470 = window.plc311470 || 0; document.write(''); AdButler.ads.push({handler: function(opt){ AdButler.register(166897, 311470, [250,20], 'placement_311470_'+opt.place, opt); }, opt: { place: plc311470++, keywords: abkw, domain: 'servedbyadbutler.com', click:'CLICK_MACRO_PLACEHOLDER' }}); Millinery Turbans Deluxe Course RECOMMENDED SUPPLIES Millinery Product Kit - Discounted materials for this course.Poupee - Cloth Head with free shipping. if (!window.AdButler){(function(){var s = document.createElement("script"); s.async = true; s.type = "text/javascript";s.src = 'https://servedbyadbutler.com/app.js';var n = document.getElementsByTagName("script")[0]; n.parentNode.insertBefore(s, n);}());} var AdButler = AdButler || {}; AdButler.ads = AdButler.ads || []; var abkw = window.abkw || ''; var plc311470 = window.plc311470 || 0; document.write(''); AdButler.ads.push({handler: function(opt){ AdButler.register(166897, 311470, [250,20], 'placement_311470_'+opt.place, opt); }, opt: { place: plc311470++, keywords: abkw, domain: 'servedbyadbutler.com', click:'CLICK_MACRO_PLACEHOLDER' }}); Millinery Turbans Deluxe Course RECOMMENDED SUPPLIES Millinery Product Kit - Discounted materials for this course.Poupee - Cloth Head with free shipping.
• 2 creative online video lessons
• Unlimited lifetime access on any modern device
• Learn to make a variety of unique turban styles
• 3 hours of comprehensive video tuition
• Correspondence with tutor to answer lesson questions
Millinery Turbans Deluxe Course
LESSON PLAN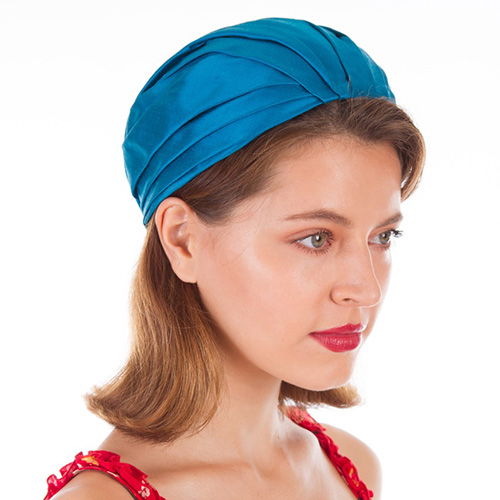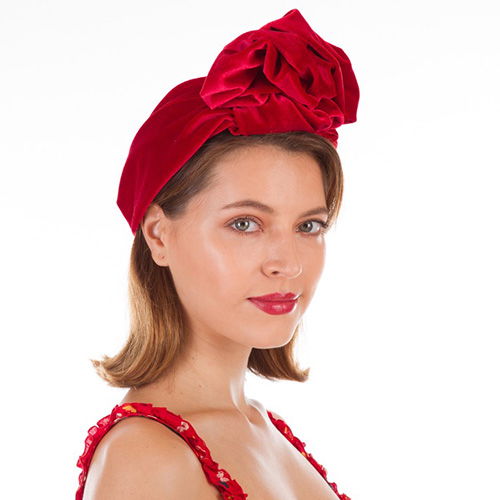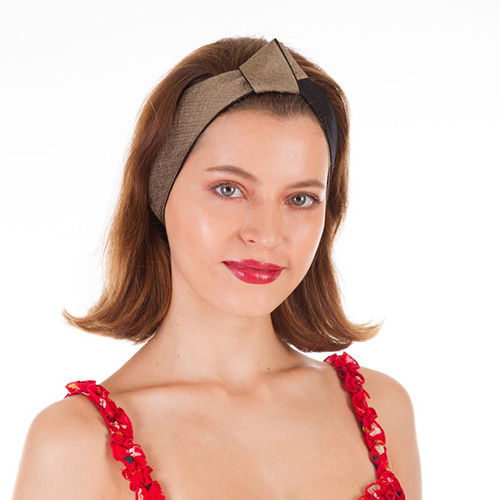 Turbans are a traditional headwear for many cultures but can be a challenge for a fashion milliner to determine how to encompass the face but keep it comfortable and secure on the head. Jane Stoddart shares her methods in this lesson allowing you to use your chosen fabric to make a full turban or a more casual turban wrap.

Lesson Modules:
• Prepare Base • Central Draping
• Side Draping • Head Wrap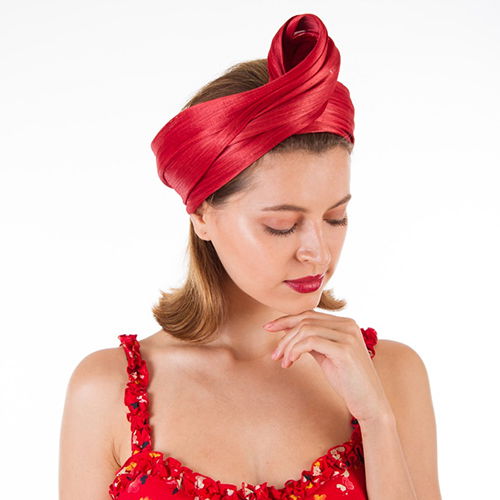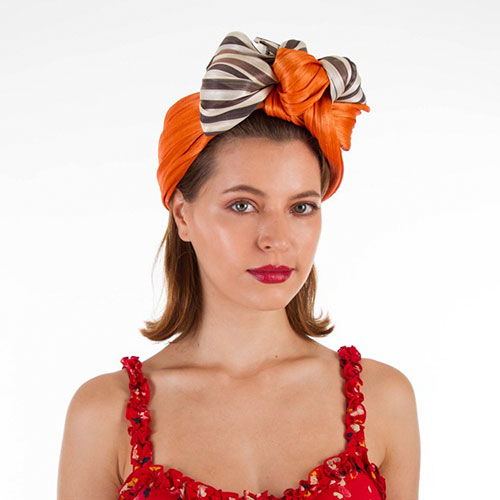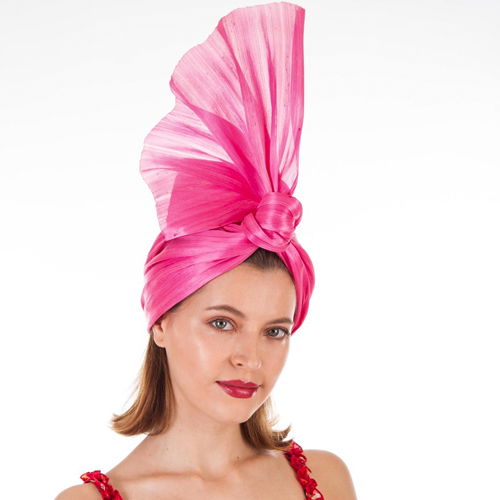 Turbans have been much loved by couture fashion for their elegance. Your tutor, Jane Stoddart teaches you methods to manage the flexibility of Silk Abaca to create a full turban or simple Turban wraps in silk abaca or transparent crinoline. Your customers will enjoy this light weight trans-seasonal headwear.

Lesson Modules:
• Silk Abaca Preparation • Secure Draping
• Knot Designs • Turban Wraps

Be inspired by millinery tuition that covers practical technical skills, creative techniques and industry knowledge.

You have unlimited access to all your lessons so you can return to modules and recap on specific skills.

Access online contact with your tutor for three months to ask lesson specific questions and feedback.
Millinery Turbans Deluxe Course
Millinery Turbans Deluxe Course
---