---
Master the shaping of flowers, creating leather stamens and colour tint your flower trims to co-ordinate your headwear with an outfit. Leather* is naturally strong and flexible and this course teaches you to create a brilliant array of flowers under the guidance of tutor and International Award-Winning Leather Artisan, 
Cherryl McIntyre
. Fall in love with leather creativity.
*This course is product specific.
Cherryl McIntyre is a leather artisan of extraordinary passion, commitment and talent - surpassed only by her passion for teaching the craft, and is committed to passing on the skills and techniques of the craft which compels her dedication, while being an inspiration to many. The high standard of Cherryl's work is acknowledged by her peers worldwide, and has won numerous awards throughout her career.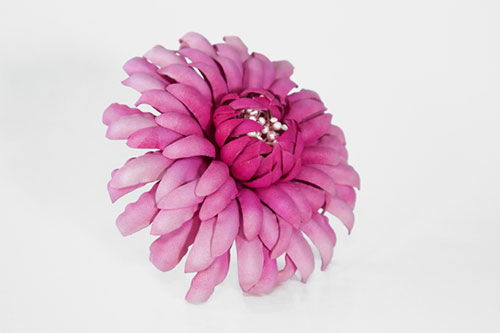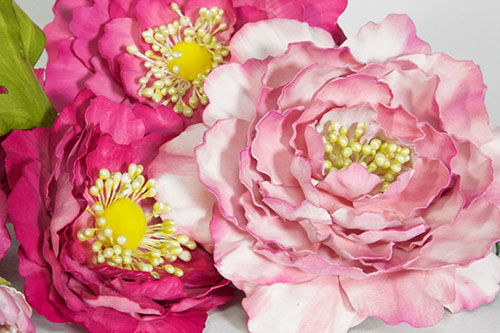 • 4 creative online video lessons
• Unlimited lifetime Lesson access on any modern device
• Learn to make leather flowers with dozens of techniques
• 5 hours of comprehensive video tuition
• Correspondence with tutor to answer lesson questions
LESSON PLAN
LEATHER FLOWERS FUNDAMENTALS
Learn the techniques from award-winning Leather Artisan, Cherryl McIntyre and give that vibrant edge to your headwear with the addition of leather flowers in your colour preference.

Lesson Modules:
• Marking Out Patterns • Tinting Flower Petals
• Shaping Petals & Adding Stamens • Full Colour Flower
• Tooling Petals & Leaves For Assembly
A Peony is recognised in Asia as the "King of Flowers". The abundance of petals makes this a spectacular flower to embellish your headwear.

Lesson Modules:
• Tinting Peony Petals • Wiring Branched Leaves
• Shaping Petals • Buds, Sepals & Flower Assembly
Fantasy Flowers, Asters and Daisies are finer and more delicate but the natural strength of leather means any shaping is retained permanently.


Lesson Modules:
• Tinting & Tooling Petals • Adding Stamens & Crystals
• Lacelike Daisy • Buds, Sepals & Leaves • Open Daisy
ENCHANTING LEATHER FLOWERS
Adorn your headwear with these four unique flower favourites. Featured flowers in this lesson are all time favourites Chrysanthemums, Gerbera, Dahlias and Daisies with new leaf design.

Lesson Modules
• Chrysanthemums • Gerberas
• Daisies & Leather Stamens • Dahlias

Be inspired by millinery tuition that covers practical technical skills, creative techniques and industry knowledge.

You have unlimited lesson access to all your lessons so you can return to modules and recap on specific skills.

Lesson support includes online contact with tutor Cherryl McIntyre to ask lesson specific questions and feedback.
Leather Flowers Deluxe Course
RECOMMENDED SUPPLIES
Millinery Product Kit
- Discounted specific materials for this course.
*This course is product specific.
---