---
Glamorous lace will add a new level of elegance to your overall look in headwear. Learn from Master Milliner, Brett Morley of Melbourne how to create refined silhouettes in lace to create a sensation on the bride's big day or as your next Fashions on the Field race day entry. In this Course Brett shows you step by step how to bring the lace to life in four different graceful styles. 
Techniques are explained on how to retain the true colour and texture of your lace as no stiffener is used, plus you are able to tweak lace into desired position. Include timeless lace styling in your new collection.  
Elegant silhouettes, ornate hand-crafted individual leaves and delicate petals for soft feminine glamour are the basis of Melbourne milliner, Brett Morley's collection. Modern millinery techniques and classic craftsmanship combine to create unique and special pieces. With a bold colour palette, Brett's passion and expertise is evident in every piece he creates. Starting his career as a hair stylist, the transition into millinery was natural and fitting.

 
WHAT YOU GET • 3 creative online video lessons• Unlimited lifetime Lesson access on any modern device• Learn to make complete hats and trims with dozens of techniques• 3+ hours of comprehensive video tuition• Correspondence with tutor to answer lesson questions if (!window.AdButler){(function(){var s = document.createElement("script"); s.async = true; s.type = "text/javascript";s.src = 'https://servedbyadbutler.com/app.js';var n = document.getElementsByTagName("script")[0]; n.parentNode.insertBefore(s, n);}());} var AdButler = AdButler || {}; AdButler.ads = AdButler.ads || []; var abkw = window.abkw || ''; var plc311470 = window.plc311470 || 0; document.write(''); AdButler.ads.push({handler: function(opt){ AdButler.register(166897, 311470, [250,20], 'placement_311470_'+opt.place, opt); }, opt: { place: plc311470++, keywords: abkw, domain: 'servedbyadbutler.com', click:'CLICK_MACRO_PLACEHOLDER' }}); Lace Millinery Deluxe Course LESSON PLAN (function() { if(!window.hypervisualIsEditorContext) { var sliderOptions = { loop: true, autoplay: false, effect: 'fade', fadeEffect: { crossFade: true }, containerModifierClass: 'hypervisual__slider-container-', wrapperClass: 'hypervisual__slider-wrapper', slideClass: 'hypervisual__slider-slide', slideActiveClass: 'hypervisual__slider-slide-active', slideDuplicatedActiveClass: 'hypervisual__slider-slide-duplicate-active', slideVisibleClass: 'hypervisual__slider-slide-visible', slideDuplicateClass: 'hypervisual__slider-slide-duplicate', slideNextClass: 'hypervisual__slider-slide-next', slideDuplicatedNextClass: 'hypervisual__slider-slide-duplicate-next', slidePrevClass: 'hypervisual__slider-slide-prev', slideDuplicatedPrevClass: 'hypervisual__slider-slide-duplicate-prev', buttonDisabledClass: 'hypervisual__slider-button-disabled', lazyLoadingClass: 'hypervisual__slider-lazy', lazyStatusLoadingClass: 'hypervisual__slider-lazy-loading', lazyStatusLoadedClass: 'hypervisual__slider-lazy-loaded', lazyPreloaderClass: 'hypervisual__slider-lazy-preloader', preloaderClass: 'preloader', zoomContainerClass: 'hypervisual__slider-zoom-container', notificationClass: 'hypervisual__slider-notification' }; sliderOptions.navigation = { nextEl: '.hypervisual__slider-button-next', prevEl: '.hypervisual__slider-button-prev', }; var slider = new Swiper ('#hypervisual__slider_661532550', sliderOptions); window.addEventListener("load", function(event) { slider.el.className = slider.el.className.replace('hypervisual__slider-container-pending', ''); slider.update(); slider.pagination.render(); slider.pagination.update(); }); } })(); LACE MILLINERY FUNDAMENTALS Learn the detailed basics on how to compose your lace pieces to bring them together to form feature flowers on your headband. No stiffening is required to maintain the graceful touch of lace to your bespoke headwear.Lesson Modules:• Compose Lace Petals • Flower Cluster Technique • Design & Attach • Bind Headband And Comb (function() { if(!window.hypervisualIsEditorContext) { var sliderOptions = { loop: true, autoplay: false, effect: 'fade', fadeEffect: { crossFade: true }, containerModifierClass: 'hypervisual__slider-container-', wrapperClass: 'hypervisual__slider-wrapper', slideClass: 'hypervisual__slider-slide', slideActiveClass: 'hypervisual__slider-slide-active', slideDuplicatedActiveClass: 'hypervisual__slider-slide-duplicate-active', slideVisibleClass: 'hypervisual__slider-slide-visible', slideDuplicateClass: 'hypervisual__slider-slide-duplicate', slideNextClass: 'hypervisual__slider-slide-next', slideDuplicatedNextClass: 'hypervisual__slider-slide-duplicate-next', slidePrevClass: 'hypervisual__slider-slide-prev', slideDuplicatedPrevClass: 'hypervisual__slider-slide-duplicate-prev', buttonDisabledClass: 'hypervisual__slider-button-disabled', lazyLoadingClass: 'hypervisual__slider-lazy', lazyStatusLoadingClass: 'hypervisual__slider-lazy-loading', lazyStatusLoadedClass: 'hypervisual__slider-lazy-loaded', lazyPreloaderClass: 'hypervisual__slider-lazy-preloader', preloaderClass: 'preloader', zoomContainerClass: 'hypervisual__slider-zoom-container', notificationClass: 'hypervisual__slider-notification' }; sliderOptions.navigation = { nextEl: '.hypervisual__slider-button-next', prevEl: '.hypervisual__slider-button-prev', }; var slider = new Swiper ('#hypervisual__slider_21291791', sliderOptions); window.addEventListener("load", function(event) { slider.el.className = slider.el.className.replace('hypervisual__slider-container-pending', ''); slider.update(); slider.pagination.render(); slider.pagination.update(); }); } })(); GLAMOROUS LACE HEADPIECE Brett Morley shares his skills to create a dramatic headpiece ready for the world stage. Learn how to use the quill in the design process and refine the binding of all components to execute a perfect finish.Lesson Modules:• Lace Petal Preparation • Create Your Own Headband• Curling Spine Perfectly • Attaching Lace• Binding Headband (function() { if(!window.hypervisualIsEditorContext) { var sliderOptions = { loop: true, autoplay: false, effect: 'fade', fadeEffect: { crossFade: true }, containerModifierClass: 'hypervisual__slider-container-', wrapperClass: 'hypervisual__slider-wrapper', slideClass: 'hypervisual__slider-slide', slideActiveClass: 'hypervisual__slider-slide-active', slideDuplicatedActiveClass: 'hypervisual__slider-slide-duplicate-active', slideVisibleClass: 'hypervisual__slider-slide-visible', slideDuplicateClass: 'hypervisual__slider-slide-duplicate', slideNextClass: 'hypervisual__slider-slide-next', slideDuplicatedNextClass: 'hypervisual__slider-slide-duplicate-next', slidePrevClass: 'hypervisual__slider-slide-prev', slideDuplicatedPrevClass: 'hypervisual__slider-slide-duplicate-prev', buttonDisabledClass: 'hypervisual__slider-button-disabled', lazyLoadingClass: 'hypervisual__slider-lazy', lazyStatusLoadingClass: 'hypervisual__slider-lazy-loading', lazyStatusLoadedClass: 'hypervisual__slider-lazy-loaded', lazyPreloaderClass: 'hypervisual__slider-lazy-preloader', preloaderClass: 'preloader', zoomContainerClass: 'hypervisual__slider-zoom-container', notificationClass: 'hypervisual__slider-notification' }; sliderOptions.navigation = { nextEl: '.hypervisual__slider-button-next', prevEl: '.hypervisual__slider-button-prev', }; var slider = new Swiper ('#hypervisual__slider_109892259', sliderOptions); window.addEventListener("load", function(event) { slider.el.className = slider.el.className.replace('hypervisual__slider-container-pending', ''); slider.update(); slider.pagination.render(); slider.pagination.update(); }); } })(); LACE AND CRINOLINE ELEGANCE Lace and crinoline are a perfect combination for this upturned brim hat. Clients who love to add height when wearing their headwear will enjoy the delicacy of this freeform pleated crinoline brim hat.Lesson Modules:• Design Upturned Crinoline Brim • Creating Lace Motifs • Adding Wire • Lace & Feather Headpiece VARIETY OF INSTRUCTION Be inspired by millinery tuition that covers practical technical skills, creative techniques and industry knowledge. UNLIMITED LESSON ACCESS You have unlimited access to all your lessons so you can return to modules and recap on specific skills. LESSON ASSISTANCE Access online contact with your tutor for three months to ask lesson specific questions and feedback. if (!window.AdButler){(function(){var s = document.createElement("script"); s.async = true; s.type = "text/javascript";s.src = 'https://servedbyadbutler.com/app.js';var n = document.getElementsByTagName("script")[0]; n.parentNode.insertBefore(s, n);}());} var AdButler = AdButler || {}; AdButler.ads = AdButler.ads || []; var abkw = window.abkw || ''; var plc311470 = window.plc311470 || 0; document.write(''); AdButler.ads.push({handler: function(opt){ AdButler.register(166897, 311470, [250,20], 'placement_311470_'+opt.place, opt); }, opt: { place: plc311470++, keywords: abkw, domain: 'servedbyadbutler.com', click:'CLICK_MACRO_PLACEHOLDER' }}); Lace Millinery Deluxe Course RECOMMENDED SUPPLIES Millinery Product Kit - Discounted materials for this course.Poupee - Cloth Head with free shipping. if (!window.AdButler){(function(){var s = document.createElement("script"); s.async = true; s.type = "text/javascript";s.src = 'https://servedbyadbutler.com/app.js';var n = document.getElementsByTagName("script")[0]; n.parentNode.insertBefore(s, n);}());} var AdButler = AdButler || {}; AdButler.ads = AdButler.ads || []; var abkw = window.abkw || ''; var plc311470 = window.plc311470 || 0; document.write(''); AdButler.ads.push({handler: function(opt){ AdButler.register(166897, 311470, [250,20], 'placement_311470_'+opt.place, opt); }, opt: { place: plc311470++, keywords: abkw, domain: 'servedbyadbutler.com', click:'CLICK_MACRO_PLACEHOLDER' }}); Lace Millinery Deluxe Course RECOMMENDED SUPPLIES Millinery Product Kit - Discounted materials for this course.Poupee - Cloth Head with free shipping.
• 3 creative online video lessons
• Unlimited lifetime Lesson access on any modern device
• Learn to make complete hats and trims with dozens of techniques
• 3+ hours of comprehensive video tuition
• Correspondence with tutor to answer lesson questions
Lace Millinery Deluxe Course
LESSON PLAN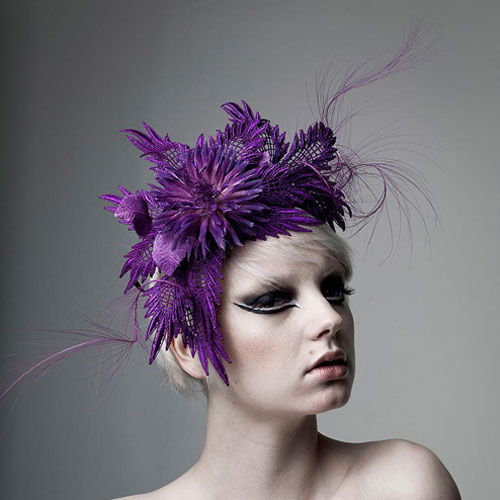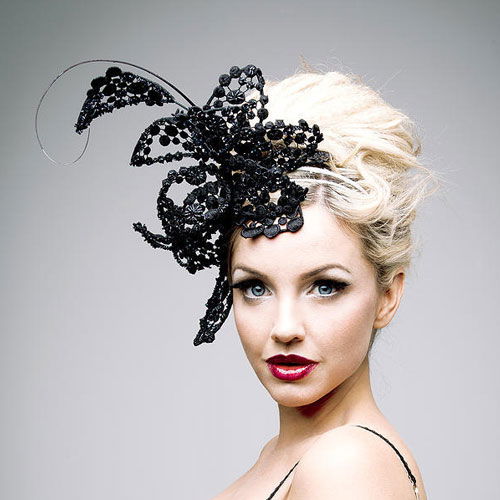 LACE MILLINERY FUNDAMENTALS
Learn the detailed basics on how to compose your lace pieces to bring them together to form feature flowers on your headband. No stiffening is required to maintain the graceful touch of lace to your bespoke headwear.


Lesson Modules:
• Compose Lace Petals • Flower Cluster Technique
• Design & Attach • Bind Headband And Comb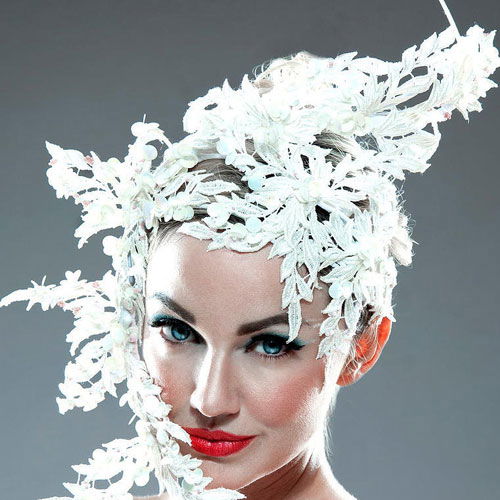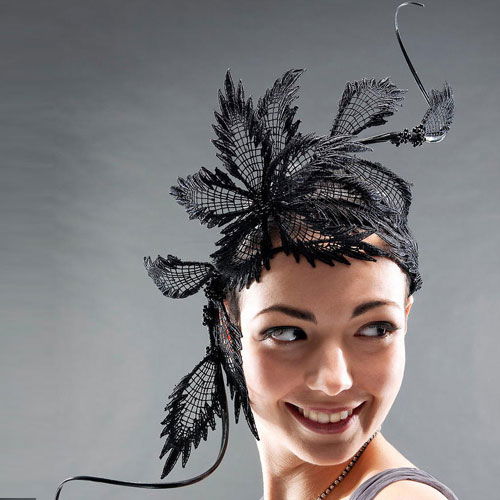 Brett Morley shares his skills to create a dramatic headpiece ready for the world stage. Learn how to use the quill in the design process and refine the binding of all components to execute a perfect finish.

Lesson Modules:
• Lace Petal Preparation • Create Your Own Headband
• Curling Spine Perfectly • Attaching Lace
• Binding Headband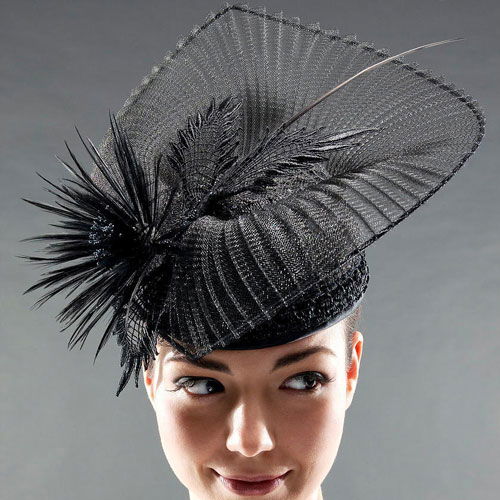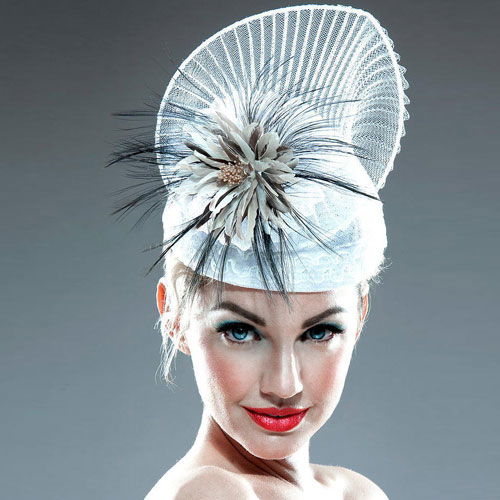 LACE AND CRINOLINE ELEGANCE
Lace and crinoline are a perfect combination for this upturned brim hat. Clients who love to add height when wearing their headwear will enjoy the delicacy of this freeform pleated crinoline brim hat.


Lesson Modules:
• Design Upturned Crinoline Brim • Creating Lace Motifs
• Adding Wire • Lace & Feather Headpiece

Be inspired by millinery tuition that covers practical technical skills, creative techniques and industry knowledge.

You have unlimited access to all your lessons so you can return to modules and recap on specific skills.

Access online contact with your tutor for three months to ask lesson specific questions and feedback.
Lace Millinery Deluxe Course
Lace Millinery Deluxe Course
---