---
Crowns represent the timeless headwear symbolic of royalty and esteem and using leather to make flower crowns will add a touch of luxury to your new headwear collection. This style is much in demand as they are lightweight and easy to wear.
Your tutor, Rebecca Share gives detailed instruction on how to make these statement pieces using time effective methods. Learn to adapt the material and style so crowns can also adorn your winter racing or bridal clients. Add a halo to make a stand alone piece for a Fashion on the Field event this season. 
Rebecca Share has been a milliner for 20 years and loves sharing her passion for Millinery. Rebecca has taught at the 'International Millinery Forum', 'Hats off to Brisbane' Millinery Convention and the 'Melbourne Fashion Institute'. Rebecca has been a Fashions on the Field judge at many racing events including the prestigious MYER Fashions on the field 'Millinery Award' held at Flemington race course during Melbourne Cup Carnival.

WHAT YOU GET • 2 creative online video lessons• Unlimited Lesson access on any modern device• Learn to make complete headpieces • 2 hours of comprehensive video tuition if (!window.AdButler){(function(){var s = document.createElement("script"); s.async = true; s.type = "text/javascript";s.src = 'https://servedbyadbutler.com/app.js';var n = document.getElementsByTagName("script")[0]; n.parentNode.insertBefore(s, n);}());} var AdButler = AdButler || {}; AdButler.ads = AdButler.ads || []; var abkw = window.abkw || ''; var plc311470 = window.plc311470 || 0; document.write(''); AdButler.ads.push({handler: function(opt){ AdButler.register(166897, 311470, [250,20], 'placement_311470_'+opt.place, opt); }, opt: { place: plc311470++, keywords: abkw, domain: 'servedbyadbutler.com', click:'CLICK_MACRO_PLACEHOLDER' }}); Leather Flower Crowns Deluxe Course LESSON PLAN (function() { if(!window.hypervisualIsEditorContext) { var sliderOptions = { loop: true, autoplay: false, effect: 'fade', fadeEffect: { crossFade: true }, containerModifierClass: 'hypervisual__slider-container-', wrapperClass: 'hypervisual__slider-wrapper', slideClass: 'hypervisual__slider-slide', slideActiveClass: 'hypervisual__slider-slide-active', slideDuplicatedActiveClass: 'hypervisual__slider-slide-duplicate-active', slideVisibleClass: 'hypervisual__slider-slide-visible', slideDuplicateClass: 'hypervisual__slider-slide-duplicate', slideNextClass: 'hypervisual__slider-slide-next', slideDuplicatedNextClass: 'hypervisual__slider-slide-duplicate-next', slidePrevClass: 'hypervisual__slider-slide-prev', slideDuplicatedPrevClass: 'hypervisual__slider-slide-duplicate-prev', buttonDisabledClass: 'hypervisual__slider-button-disabled', lazyLoadingClass: 'hypervisual__slider-lazy', lazyStatusLoadingClass: 'hypervisual__slider-lazy-loading', lazyStatusLoadedClass: 'hypervisual__slider-lazy-loaded', lazyPreloaderClass: 'hypervisual__slider-lazy-preloader', preloaderClass: 'preloader', zoomContainerClass: 'hypervisual__slider-zoom-container', notificationClass: 'hypervisual__slider-notification' }; var slider = new Swiper ('#hypervisual__slider_825435713', sliderOptions); window.addEventListener("load", function(event) { slider.el.className = slider.el.className.replace('hypervisual__slider-container-pending', ''); slider.update(); slider.pagination.render(); slider.pagination.update(); }); } })(); FLORAL CROWNS With the ongoing appeal of Crown headpieces Rebecca offers you all her proven tips to use leather to add value to your styling. Practical methods to create leather flowers will excite you giving a wonderful finish your clients will certainly love. Lesson Modules • Preparing Flowers • Wiring Leather • Shaping Petals • Headband Attachment (function() { if(!window.hypervisualIsEditorContext) { var sliderOptions = { loop: true, autoplay: false, effect: 'fade', fadeEffect: { crossFade: true }, containerModifierClass: 'hypervisual__slider-container-', wrapperClass: 'hypervisual__slider-wrapper', slideClass: 'hypervisual__slider-slide', slideActiveClass: 'hypervisual__slider-slide-active', slideDuplicatedActiveClass: 'hypervisual__slider-slide-duplicate-active', slideVisibleClass: 'hypervisual__slider-slide-visible', slideDuplicateClass: 'hypervisual__slider-slide-duplicate', slideNextClass: 'hypervisual__slider-slide-next', slideDuplicatedNextClass: 'hypervisual__slider-slide-duplicate-next', slidePrevClass: 'hypervisual__slider-slide-prev', slideDuplicatedPrevClass: 'hypervisual__slider-slide-duplicate-prev', buttonDisabledClass: 'hypervisual__slider-button-disabled', lazyLoadingClass: 'hypervisual__slider-lazy', lazyStatusLoadingClass: 'hypervisual__slider-lazy-loading', lazyStatusLoadedClass: 'hypervisual__slider-lazy-loaded', lazyPreloaderClass: 'hypervisual__slider-lazy-preloader', preloaderClass: 'preloader', zoomContainerClass: 'hypervisual__slider-zoom-container', notificationClass: 'hypervisual__slider-notification' }; var slider = new Swiper ('#hypervisual__slider_285595309', sliderOptions); window.addEventListener("load", function(event) { slider.el.className = slider.el.className.replace('hypervisual__slider-container-pending', ''); slider.update(); slider.pagination.render(); slider.pagination.update(); }); } })(); HALO CROWNS These Crown designs suit brides as well clients wanting a striking look on race day. Rebecca teaches you simply how to tool elegant leather flowers then add to a Crown with a halo as a standout piece. Lesson Modules• Leather Petals • Halo Construction • Double Leaves • Headband Attachment if (!window.AdButler){(function(){var s = document.createElement("script"); s.async = true; s.type = "text/javascript";s.src = 'https://servedbyadbutler.com/app.js';var n = document.getElementsByTagName("script")[0]; n.parentNode.insertBefore(s, n);}());} var AdButler = AdButler || {}; AdButler.ads = AdButler.ads || []; var abkw = window.abkw || ''; var plc311470 = window.plc311470 || 0; document.write(''); AdButler.ads.push({handler: function(opt){ AdButler.register(166897, 311470, [250,20], 'placement_311470_'+opt.place, opt); }, opt: { place: plc311470++, keywords: abkw, domain: 'servedbyadbutler.com', click:'CLICK_MACRO_PLACEHOLDER' }}); Leather Flower Crowns Deluxe Course RECOMMENDED SUPPLIES Millinery Product Kit - Discounted materials for this course.Hat Blocks - Rebecca Share hat blocks with free shipping. if (!window.AdButler){(function(){var s = document.createElement("script"); s.async = true; s.type = "text/javascript";s.src = 'https://servedbyadbutler.com/app.js';var n = document.getElementsByTagName("script")[0]; n.parentNode.insertBefore(s, n);}());} var AdButler = AdButler || {}; AdButler.ads = AdButler.ads || []; var abkw = window.abkw || ''; var plc311470 = window.plc311470 || 0; document.write(''); AdButler.ads.push({handler: function(opt){ AdButler.register(166897, 311470, [250,20], 'placement_311470_'+opt.place, opt); }, opt: { place: plc311470++, keywords: abkw, domain: 'servedbyadbutler.com', click:'CLICK_MACRO_PLACEHOLDER' }}); Leather Flower Crowns Deluxe Course RECOMMENDED SUPPLIES Millinery Product Kit - Discounted materials for this course.Hat Blocks - Rebecca Share hat blocks with free shipping.
• 2 creative online video lessons
• Unlimited Lesson access on any modern device
• Learn to make complete headpieces
• 2 hours of comprehensive video tuition
Leather Flower Crowns Deluxe Course
LESSON PLAN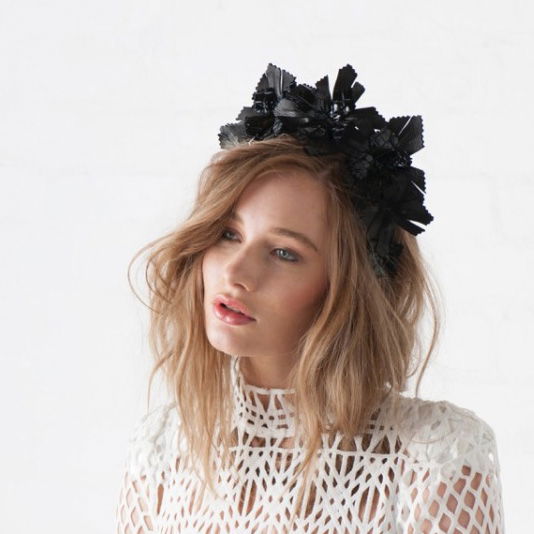 With the ongoing appeal of Crown headpieces Rebecca offers you all her proven tips to use leather to add value to your styling. Practical methods to create leather flowers will excite you giving a wonderful finish your clients will certainly love.


Lesson Modules
• Preparing Flowers • Wiring Leather • Shaping Petals • Headband Attachment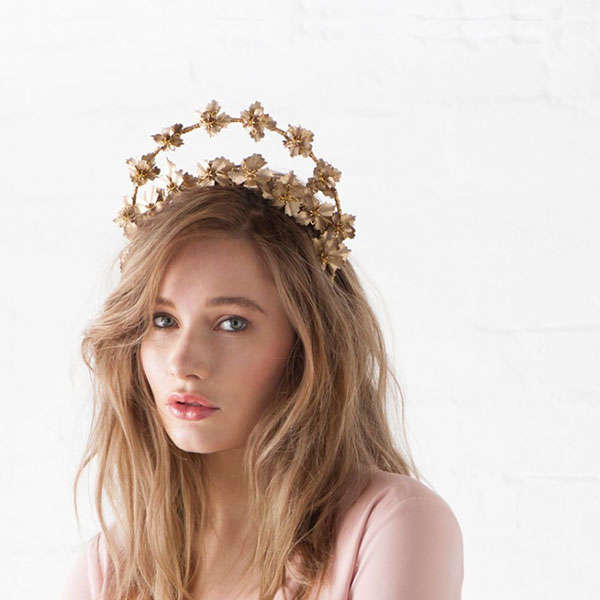 These Crown designs suit brides as well clients wanting a striking look on race day. Rebecca teaches you simply how to tool elegant leather flowers then add to a Crown with a halo as a standout piece.

Lesson Modules
• Leather Petals • Halo Construction • Double Leaves • Headband Attachment
Leather Flower Crowns Deluxe Course
Leather Flower Crowns Deluxe Course
---