---
Apply traditional Origami methods to your latest styling to add defined line and texture to your headwear. Follow Master Milliner Lina Stein's proven procedures to execute the precise sculpting using buckram as your base. Your choice of fabric gives such individuality to every piece as you learn to twist and shape the folds for a complete headpiece or make a stunning trim for your hats. The result is creative simplicity.
Originally from Australia, Milliner Lina Stein has been based in Westport, Ireland for many years. For more than two decades she has been creating amazing hats and is recognized as a leading light in the international world of Millinery. Through the flamboyant and extravagant creations, her presence signals an explosive dynamic that is diverse and exposes her to new experiences, people and places.


 
WHAT YOU GET • 2 creative online video lessons• Unlimited lifetime access on any modern device• Learn to make unique styled headpieces• 2+ hours of comprehensive video tuition• Correspondence with tutor to answer lesson questions if (!window.AdButler){(function(){var s = document.createElement("script"); s.async = true; s.type = "text/javascript";s.src = 'https://servedbyadbutler.com/app.js';var n = document.getElementsByTagName("script")[0]; n.parentNode.insertBefore(s, n);}());} var AdButler = AdButler || {}; AdButler.ads = AdButler.ads || []; var abkw = window.abkw || ''; var plc311470 = window.plc311470 || 0; document.write(''); AdButler.ads.push({handler: function(opt){ AdButler.register(166897, 311470, [250,20], 'placement_311470_'+opt.place, opt); }, opt: { place: plc311470++, keywords: abkw, domain: 'servedbyadbutler.com', click:'CLICK_MACRO_PLACEHOLDER' }}); Origami Millinery Deluxe Course LESSON PLAN ORIGAMI FUNDAMENTALS The goal in this lesson is to transform a flat piece of buckram and fabric into a cocktail hat in one simple procedure. Origami techniques are taught by your tutor, Irish Master Milliner Lina Stein to give you creative options for your headwear styling.Lesson Modules:• Instant Block And Cover • Smooth Perfection • Wiring Technique • Origami Basics ORIGAMI SCULPTING This procedure of covering your foundation smoothly is taught in great detail before you venture into various origami systems. Attaching to a base or band is outlined to ensure stability on the head according to the twist and shape you add to give your unique look.Lesson Modules:• Double Cover • Fold Procedures • Pleating Attachment • Twist And Shape VARIETY OF INSTRUCTION Be inspired by millinery tuition that covers practical technical skills, creative techniques and industry knowledge. UNLIMITED LESSON ACCESS You have unlimited access to all your lessons so you can return to modules and recap on specific skills. LESSON ASSISTANCE Access online contact with your tutor for three months to ask lesson specific questions and feedback. if (!window.AdButler){(function(){var s = document.createElement("script"); s.async = true; s.type = "text/javascript";s.src = 'https://servedbyadbutler.com/app.js';var n = document.getElementsByTagName("script")[0]; n.parentNode.insertBefore(s, n);}());} var AdButler = AdButler || {}; AdButler.ads = AdButler.ads || []; var abkw = window.abkw || ''; var plc311470 = window.plc311470 || 0; document.write(''); AdButler.ads.push({handler: function(opt){ AdButler.register(166897, 311470, [250,20], 'placement_311470_'+opt.place, opt); }, opt: { place: plc311470++, keywords: abkw, domain: 'servedbyadbutler.com', click:'CLICK_MACRO_PLACEHOLDER' }}); Origami Millinery Deluxe Course RECOMMENDED SUPPLIES Millinery Product Kit - Discounted materials for this course.Poupee - Cloth Head with free shipping. if (!window.AdButler){(function(){var s = document.createElement("script"); s.async = true; s.type = "text/javascript";s.src = 'https://servedbyadbutler.com/app.js';var n = document.getElementsByTagName("script")[0]; n.parentNode.insertBefore(s, n);}());} var AdButler = AdButler || {}; AdButler.ads = AdButler.ads || []; var abkw = window.abkw || ''; var plc311470 = window.plc311470 || 0; document.write(''); AdButler.ads.push({handler: function(opt){ AdButler.register(166897, 311470, [250,20], 'placement_311470_'+opt.place, opt); }, opt: { place: plc311470++, keywords: abkw, domain: 'servedbyadbutler.com', click:'CLICK_MACRO_PLACEHOLDER' }}); Origami Millinery Deluxe Course RECOMMENDED SUPPLIES Millinery Product Kit - Discounted materials for this course.Poupee - Cloth Head with free shipping.
WHAT YOU GET • 2 creative online video lessons• Unlimited lifetime access on any modern device• Learn to make unique styled headpieces• 2+ hours of comprehensive video tuition• Correspondence with tutor to answer lesson questions if (!window.AdButler){(function(){var s = document.createElement("script"); s.async = true; s.type = "text/javascript";s.src = 'https://servedbyadbutler.com/app.js';var n = document.getElementsByTagName("script")[0]; n.parentNode.insertBefore(s, n);}());} var AdButler = AdButler || {}; AdButler.ads = AdButler.ads || []; var abkw = window.abkw || ''; var plc311470 = window.plc311470 || 0; document.write(''); AdButler.ads.push({handler: function(opt){ AdButler.register(166897, 311470, [250,20], 'placement_311470_'+opt.place, opt); }, opt: { place: plc311470++, keywords: abkw, domain: 'servedbyadbutler.com', click:'CLICK_MACRO_PLACEHOLDER' }}); Origami Millinery Deluxe Course LESSON PLAN ORIGAMI FUNDAMENTALS The goal in this lesson is to transform a flat piece of buckram and fabric into a cocktail hat in one simple procedure. Origami techniques are taught by your tutor, Irish Master Milliner Lina Stein to give you creative options for your headwear styling.Lesson Modules:• Instant Block And Cover • Smooth Perfection • Wiring Technique • Origami Basics ORIGAMI SCULPTING This procedure of covering your foundation smoothly is taught in great detail before you venture into various origami systems. Attaching to a base or band is outlined to ensure stability on the head according to the twist and shape you add to give your unique look.Lesson Modules:• Double Cover • Fold Procedures • Pleating Attachment • Twist And Shape VARIETY OF INSTRUCTION Be inspired by millinery tuition that covers practical technical skills, creative techniques and industry knowledge. UNLIMITED LESSON ACCESS You have unlimited access to all your lessons so you can return to modules and recap on specific skills. LESSON ASSISTANCE Access online contact with your tutor for three months to ask lesson specific questions and feedback. if (!window.AdButler){(function(){var s = document.createElement("script"); s.async = true; s.type = "text/javascript";s.src = 'https://servedbyadbutler.com/app.js';var n = document.getElementsByTagName("script")[0]; n.parentNode.insertBefore(s, n);}());} var AdButler = AdButler || {}; AdButler.ads = AdButler.ads || []; var abkw = window.abkw || ''; var plc311470 = window.plc311470 || 0; document.write(''); AdButler.ads.push({handler: function(opt){ AdButler.register(166897, 311470, [250,20], 'placement_311470_'+opt.place, opt); }, opt: { place: plc311470++, keywords: abkw, domain: 'servedbyadbutler.com', click:'CLICK_MACRO_PLACEHOLDER' }}); Origami Millinery Deluxe Course RECOMMENDED SUPPLIES Millinery Product Kit - Discounted materials for this course.Poupee - Cloth Head with free shipping. if (!window.AdButler){(function(){var s = document.createElement("script"); s.async = true; s.type = "text/javascript";s.src = 'https://servedbyadbutler.com/app.js';var n = document.getElementsByTagName("script")[0]; n.parentNode.insertBefore(s, n);}());} var AdButler = AdButler || {}; AdButler.ads = AdButler.ads || []; var abkw = window.abkw || ''; var plc311470 = window.plc311470 || 0; document.write(''); AdButler.ads.push({handler: function(opt){ AdButler.register(166897, 311470, [250,20], 'placement_311470_'+opt.place, opt); }, opt: { place: plc311470++, keywords: abkw, domain: 'servedbyadbutler.com', click:'CLICK_MACRO_PLACEHOLDER' }}); Origami Millinery Deluxe Course RECOMMENDED SUPPLIES Millinery Product Kit - Discounted materials for this course.Poupee - Cloth Head with free shipping.
• 2 creative online video lessons
• Unlimited lifetime access on any modern device
• Learn to make unique styled headpieces
• 2+ hours of comprehensive video tuition
• Correspondence with tutor to answer lesson questions
Origami Millinery Deluxe Course
LESSON PLAN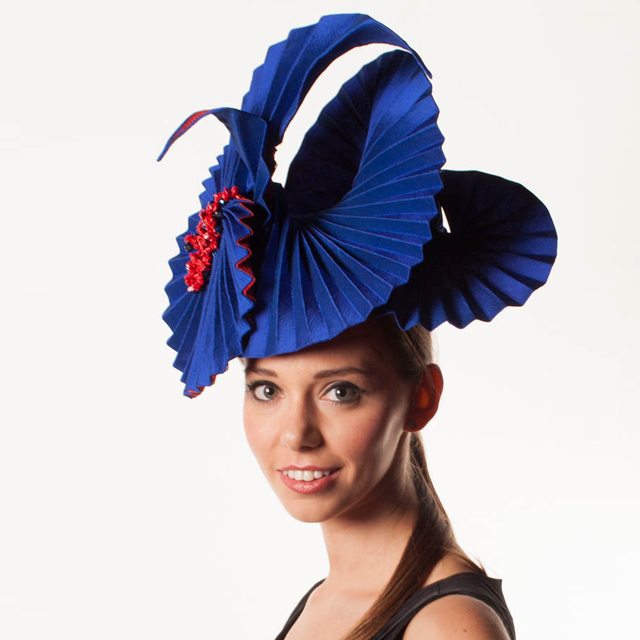 The goal in this lesson is to transform a flat piece of buckram and fabric into a cocktail hat in one simple procedure. Origami techniques are taught by your tutor, Irish Master Milliner Lina Stein to give you creative options for your headwear styling.

Lesson Modules:
• Instant Block And Cover • Smooth Perfection
• Wiring Technique • Origami Basics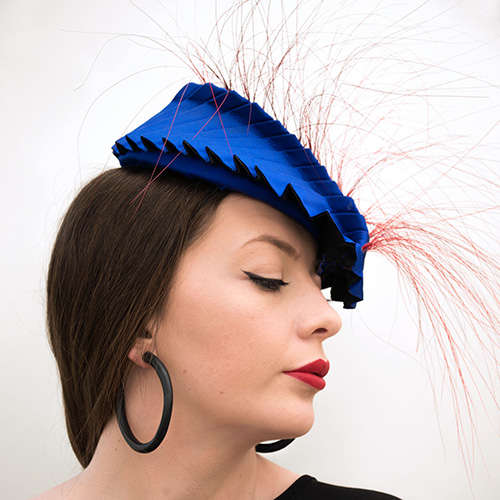 This procedure of covering your foundation smoothly is taught in great detail before you venture into various origami systems. Attaching to a base or band is outlined to ensure stability on the head according to the twist and shape you add to give your unique look.

Lesson Modules:
• Double Cover • Fold Procedures
• Pleating Attachment • Twist And Shape

Be inspired by millinery tuition that covers practical technical skills, creative techniques and industry knowledge.

You have unlimited access to all your lessons so you can return to modules and recap on specific skills.

Access online contact with your tutor for three months to ask lesson specific questions and feedback.
Origami Millinery Deluxe Course
Origami Millinery Deluxe Course
---